Lost/Found Pets
---
Dr. Olson and the Staff of Varsity Veterinary Center love happy reunions. If you have lost or found a pet feel free to call us
(407)674-6835
and we will post the information on this page. Also inquire about a microchip in case your pet were to be lost to help us to help them find there way home.
---
December 13thFound:
Small Female Dog
Call (407) 674-6835 to inquire
Status:December 15th FOUND OWNER!!!
---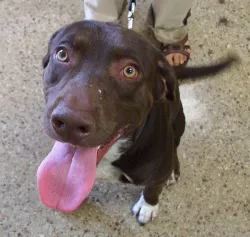 This very friendly guy was brought to us Tuesday morning, he was found in the parking lot of the Wellesly we were unable to find a microchip to help find his owner if he is yours or you know who he belongs to please call (407) 674-6835 Thank you.